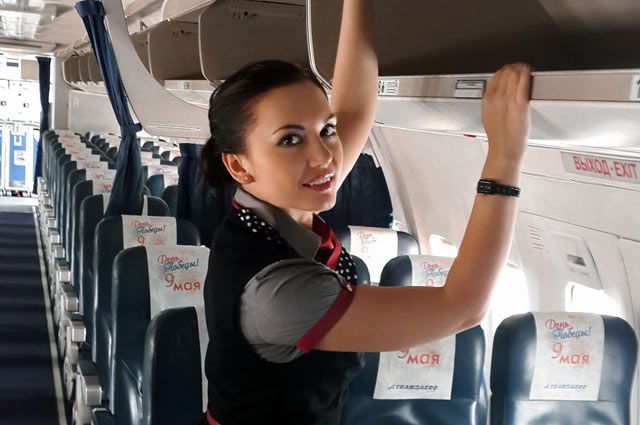 Into the profession Yulia Petrushkova, better known on the Web as julia_choco, came by accident. However, her love for aviation and her work dragged her so much that she decided to leave for the earth only after 11 years. The girl learned about the recruitment of flight attendants from her friends. She passed a medical examination, then three months of active training, trainee flights, one more training for wide-body aircraft — and literally a year later she flew all over the world: New York, Los Angeles, Mexico, Hong Kong, Maldives. Today, Yulia works in PR and actively maintains her pages on social networks, however, she admits that she misses flying. Despite sleepless nights, constant stress and irregular work schedules, the stewardess calls 11 years in the sky "the happiest." By the day of the flight attendant, especially for aif.ru, Yulia remembered some funny stories from her professional life. jpg" height="425″ width="640″ style="display: block;" />
Julia Petrushkova. Photo: personal archive
Story No. 1. Lost my shoe
This story happened to me when I was just starting to fly. Before leaving for work, I always carefully checked the availability of documents and all elements of uniforms: gloves, a cap, removable shoes, an apron, a reflective vest, etc. But that day something went wrong. Already on board the plane, I found that I took the shoes on one foot. I remember being very worried at the time. Fortunately, the senior flight attendant was sympathetic to this situation. She put me to work with food, allowed me to stay in winter boots and not go out to the passenger compartment.
In fact, I got off lightly, because I could be suspended from work or punished with a ruble, violate a personal file if my flight was disrupted.
Inattention is always costly for flight attendants. Once, after a business trip to warm countries, when we flew back to Moscow, where it was -25 °C outside, I realized that I had left my winter shoes on the last flight. I had to walk to the parking lot in summer shoes.
Story No. 2. Everywhere in the world
The life of flight attendants is unpredictable: about a couple of times a month, and in some airlines more often, we were sent to the so-called "reserve". For 12 hours, you must be near the airport in a hotel in case one of your colleagues falls ill, is late, or someone is removed from the flight. It happens that you are not called anywhere, and I really hoped that this would happen. But a couple of hours before the end of the reserve, the dispatcher called me and said that I was flying to Kamchatka for a week! It's winter outside, and in my work suitcase are a swimsuit, flip flops and a tracksuit. There is no way to refuse, so I had to collect clothes, as they say, from the world one by one. Fortunately, I was very lucky with my colleagues. We were all like one big family. Someone gave a warm jacket, someone — socks. By the way, that business trip turned out to be one of the best in my entire career.
Story No. 3. Tea, Chinese gymnastics and noodles
The flights to China were challenging and fun at the same time. Basically, the Chinese did not understand English, so during the service with soft drinks and hot meals, we had to communicate with them literally on our fingers. More experienced flight attendants showed me a wonderful life hack for such cases: several open cassettes were placed on the food cart specifically for demonstration, and the passenger showed that he was choosing — chicken, fish or meat.
Another feature of such flights was that after the main service, endless lines lined up in the kitchen for boiling water to brew noodles and green tea. During the entire flight there was constant noise, walking around the cabin and, of course, the famous Chinese gymnastics.
Seat the Chinese, for example, during the landing — real quest. Therefore, we always tried to find at least one person who spoke English. Over the speakerphone, he explained in his native language that you need to take your seats and fasten your seat belts. & nbsp;
Story No. 4. Bride on board
Once we flew on a double-decker Boeing 747. I met passengers on the upper deck and suddenly I saw a girl who was climbing the stairs in a wedding dress with a very fluffy skirt and a veil. She could hardly fit in the aisle. Behind the bride was the groom with a cover for clothes and with a huge bouquet of flowers. Then I thought that these are newlyweds who simply did not have time to change clothes after the wedding ceremony, but as soon as we take off, they will do it. However, the girl spent the entire flight in a dress, which is about 8 hours! In this form, she even managed to visit the toilet several times.
Story No. 5. Ten-Thousand Club
Imagine: an almost half-empty business class — only 3-4 passengers. My colleague and I noticed that two people, namely a girl and a guy, have been gone for a long time. The toilet is busy, strange sounds come from there. According to the rules, we must find out what is happening: suddenly someone became ill. My colleague knocked on the door, but quickly realized what was the matter. When the couple left, they found champagne in their places and a note: "Welcome to the club of ten-thousanders." (people who have sex on an airplane — ed.)
Even in such a sensitive situation, the flight attendant must behave as correctly as possible. Yes, what these two did on board the — public order disturbance. But you can't prove this in any way, so it's easier to treat what happened with humor. I must say right away that such stories happen not only in the business class, but also in the economy class. too.
Story No. 6. I wanted cognac
The volume of alcohol for any flight is shipped depending on the layout of the aircraft. I remember that we flew on a small plane, in the business class everyone, as according to the law of meanness, drank brandy. The drink quickly came to an end, there was literally one bottle left. But when we returned to the kitchen to take her, we realized that she had disappeared. They searched everything, even looked into the trash can, thought — suddenly, accidentally thrown away. The question arose of how to explain to the passengers that the cognac had suddenly run out. As a result, the bottle was found in the "Economy". One of the passengers of this class came to the "business", saw cognac, took it away and began to drink in his place.
There are a lot of such stories. For example, one day a warm jacket disappeared from a girl in flight, which she put on the seat. Then it turned out that another passenger had just taken her. For some people, for some reason, it is absolutely normal to take someone else's.
Story No. 7. Fire!
To prevent food for passengers from spoiling, casseroles are placed in dry ice. Outwardly, it looks like an ordinary one, but upon contact with any liquid, thick vapor begins to flow from it. We sometimes joked about the new ones, poured ice into the sink and added water there as soon as the steam began to rise, shouted: "Fire, fire! Run quickly for a fire extinguisher. Of course, the man ran away in panic, and we laughed. Without humor in our profession is very difficult. But we never went too far.
Rate the material