Weekly "Argumenty i Fakty" No. 21. Got it from Azovstal 25/05/2022 Plot Russian special operation in Donbass and on Ukraine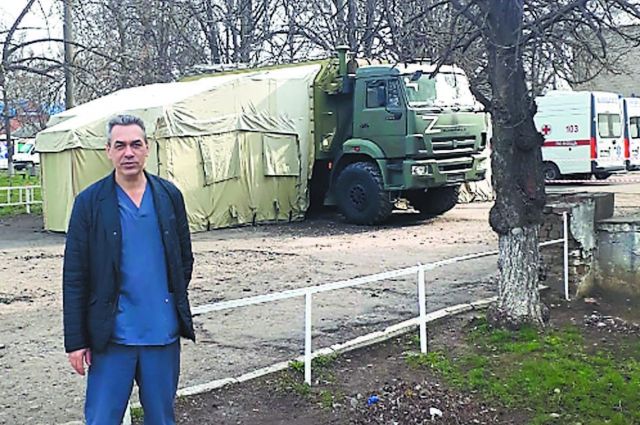 Today is difficult for many. True, it's "difficult" everyone is very different. Some people worry that they won't be able to spend their holidays where they used to. And others silently take vacations at their own expense to go to help those who are even more difficult.
Professor, doctor of the highest category, surgeon Andrey Guryanov returned to native Barnaul From Donbass 5 May. Another volunteer of the same team — surgeon Alexei Vetrovfrom Tobolsk. Guryanov has over 30 years of medical experience, Vetrov — 22 & nbsp; years. Both of them responded to the call of their Donetsk colleagues to help treat wounded soldiers and injured civilians. .jpg" height="600″ width="449″ style="display: block;" />
Surgeon A. Vetrov bandages the patient he operated on. Photo: Photo from the archive of A. Vetrov
Everything was decided seconds
The doctors took a leave of absence from work at their own expense, in order to work for a month free of charge in the front-line hospital in Novoazovsk, which is 40 km from Mariupol. "Having returned home, I couldn't watch news related to Donbass for a week. It was hard. That emotional wave covered me, which at the scene was restrained by focusing on work. There, all the forces went only to help the wounded», — says Alexey Vetrov.
Within an hour after arriving in Novoazovsk, the surgeons were working in the operating room: "Severe penetrating wound in the abdominal cavity. Operated. The fighter survived. The hospital received the wounded from Mariupol. At that time, there was a cleansing of the city, fighting around "Azovstal", around the Ilyich plant, — says Alexey Vetrov. — The cases were all severe: severed parts of the body, damage to several abdominal organs at once. There were a lot of wounded, several cars a day. We did triage right in the car, deciding who to take immediately to the operating room. It was about seconds: it was necessary to stop the bleeding and operate quickly. Save life. The next day, the operated Russian fighters were sent by helicopter to Rostov. Local DPR fighters — to a hospital in Donetsk. We we had a mixed team — six local doctors and we two, volunteers from Russia. We performed 3–4 operations per day».
Surgeons and local residents operated. Aleksey Vetrov recalls his grandfather, who was wounded by a Ukrainian sniper: "He and his wife went out for water from the basement of a house in Mariupol, where he was hiding. A Ukrainian sniper shot him in the leg. Already wounded, he covered his wife with his body, the second sniper's bullet hit him in the stomach. Our team operated on this elderly man. Then in the ward he told how our soldiers were able to evacuate him».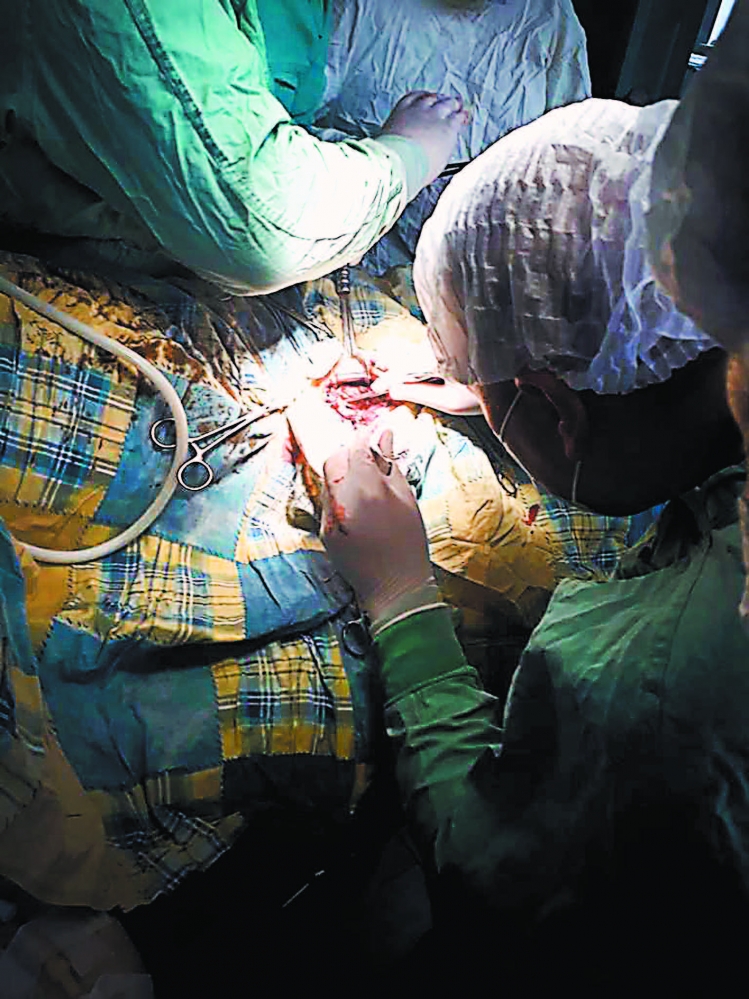 One of the dozens of surgeries performed at the hospital by surgeons Guryanov and Vetrov. Photo: Photo from the archive of A. Vetrov
Courage and mercy
"After this incident, we heard other stories about Ukrainian snipers shooting at locals — — Alexey Vetrov continues. — Shortly before our arrival, a 5-year-old girl died. A sniper wounded her in the belly while she was walking in the street. The wounded girl spent a day in the basement, they could not take her out. And when she got to the hospital in Novoazovsk, there was practically no chance of rescue. She died on the operating table. Doctors recalled this case with pain. The locals hate the Nazis — they shot at them, killed their children, bombed them. When we were in Donetsk on the last day before departure, a Ukrainian Tochka-U missile was shot down over Makiivka. An injured man was brought to the city hospital. He with wife and child entered the porch and, hearing a bang, closed the family with his body. All the fragments hit him in the back. He has been operated on. His family didn suffer".
During the month that the volunteer doctors spent in Novoazovsk, they almost never left the territory of the hospital. It became their home. "We, surgeons, lived in the same common ward. We ate local hospital food. There was an opportunity to sleep. The wounded usually arrived during the day. But, it happened, and they operated at night. Once a fighter was brought in, who ended up in a strike area, and it was only in darkness they managed to take him out of the battlefield — Alexey tells.
When Alexei Vetrov entered the medical institute after school, he already knew then that he would choose the specialty of a surgeon: "Among all medical specializations, this is the most courageous." Courage and mercy — these two concepts are inextricably linked with the profession of a doctor. Therefore, in the hospital of Novoazovsk they operated and continue to operate not only on our guys, but and and surrendered soldiers of the Armed Forces of Ukraine. "Donetsk colleagues are now treating those who surrendered to captivity at "Azovstal", seriously wounded patients were admitted there. During my business trip, I operated on two of the 12 seriously wounded Ukrainian marines who surrendered at the Ilyich plant in Mariupol. Already in the hospital beds, having come to themselves, they said that they were forced to go to fight, that they regret what happened. How sincere these words are, I cannot say. I went to Donbass to rescue our fighters. But since there were captured Ukrainian military among the patients, he also provided them with all the necessary assistance».
20 potatoes stretched for a month
Andrei Guryanov also speaks about the fact that the hospital did not make a difference between our soldiers and prisoners: "The Donbass colleagues, who suffered from the actions of the Ukrainian army all these 8 years, provided the prisoners with maximum assistance. I can testify to this as a doctor who saw everything with his own eyes.
Professor Andrey Guryanov from Barnaul has many scientific regalia, teaches students and at the same time operates in the local hospital. The decision to go to the Donbass is explained by "an impulse of the soul, a desire to help people and an understanding that, due to his qualifications, he" can provide this assistance.
This trip turned out to be a kind of test for professional suitability for surgeons. The severity of combat injuries of patients in the Novoazovsk hospital was incomparable with what was encountered in Guryanov's peaceful practice. "With can be compared only one single case — when a man was brought to the operating room, on whom an arrow from a tower crane fell. A in hospital — gunshot-bullet, mine-explosive injuries, shrapnel wounds and concussion injuries, burns from cumulative projectiles».
Civilians of Mariupol entered the hospital, exhausted from hunger and cold, with frostbite of limbs, exacerbation of chronic diseases. "An elderly man came to us with a perforated ulcer. Everything — due to hunger. these these three people in the basement had 20 potatoes and several eggs, which they stretched out for a month. They drank rain water. The patient was successfully operated on. When his condition returned to normal, he told what they had to endure», — says Professor Guryanov. He recalls his Donetsk colleagues with warmth: "These are open, good-natured people with whom we" became friends, we correspond. " He also noted the nature of the region: In in contrast to Altai in Donbass, nature blooms a month earlier in spring. Once, during a free hour, we reached the Sea of ​​Azov and even swam, which caused a shock among locals. No one enters the water so early. And we said that in Siberia there is always such water».
Before the volunteers left home, their colleagues gave them a tour of Donetsk: "I really liked the city. Despite the constant shelling of Donetsk for 8 years, the city is clean, the lawns are mowed, there are many flower beds with roses. This is his medical specialty. And I agreed with colleagues to maintain working relations with an eye on peaceful life.
And for now, according to Aleksey Vetrov, the fifth and sixth groups of volunteers are working in Donbass. Volunteer doctors have already lined up who want to work in the frontline zone. Surgeons with regalia, aces in their profession, are ready to take a "vacation" in Donbass to pass your personal human and professional exam.
Rate the material