Political scientists agree
The Russian oligarch Roman Abramovich participated in the negotiations in Istanbul as an intermediary, and with the approval of the presidents of Russia and Ukraine. The footage, where the oligarch is talking with Turkish President Recep Erdogan, was seen by the whole world. The Kremlin confirmed his special status "in ensuring certain contacts between the Russian and Ukrainian sides." At the same time, the United States did not include Mr. Abramovich in the sanctions list, his yachts and planes were not arrested, his longtime friend Yevgeny Shvidler was excluded from the UK sanctions list … And on the eve of the talks in Istanbul, the British media unanimously told that they allegedly tried to poison Abramovich in Kyiv in early March, at the very beginning of the negotiation process, together with several members of the Ukrainian delegation.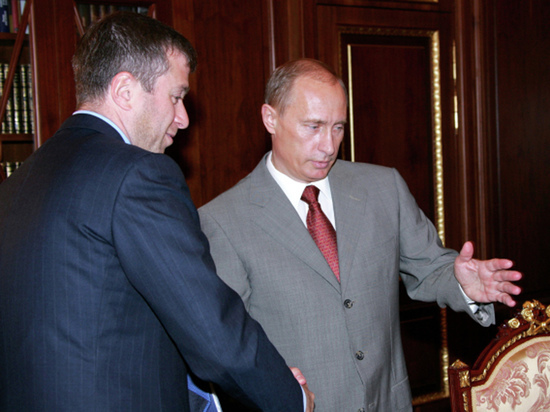 Putin and Abramovich. 2005 year. Photo: RIA Novosti/AP
MK talked to experts about why billionaire Abramovich was needed in the negotiations and why he was chosen from all the Russian oligarchs to play the role of an unofficial mediator.
– Unlike Russia, where there is a fairly rigid vertical of power and an understandable subject, in Ukraine the power is very diversified. This is a joint-stock company where the packages are distributed among several groups. Group number one is the US, they have a blocking stake. Group number two – radical nationalists with a power roof, the second most influential group, probably today. Group number three is Zelensky's own team and his inner circle. And roughly comparable to it in terms of influence, group number four are representatives of Ukrainian big business. Among the representatives of the last group there are many Jews by nationality. They emphasize their national identity and commonality, although they may conflict with each other. Now among these people, the most influential is Igor Kolomoisky (Ukrainian billionaire. – "MK"), which at one time launched the political career of Volodymyr Zelensky. I think the Russian side is selecting negotiators who could speak with each of these groups in a language they understand. Lavrov also communicates with the Americans in a closed format – representatives of law enforcement agencies. With radical nationalists – Shoigu, using his tools. With President Zelensky – the actual negotiating group. With representatives of large Ukrainian business – please, Roman Arkadievich …
Why exactly him? There are several reasons. Firstly, he is a person who has been quite close to Vladimir Putin since the late 1990s. Secondly, unlike other representatives of big business, he has experience in government and in this sense has broader competencies: he was a State Duma deputy (from December 1999 to December 2000. – "MK" ), headed a very difficult region – Chukotka (from 2001 to 2008 – Governor of the Chukotka Autonomous Okrug, from 2008 to 2013 – Speaker of the Duma of the Chukotka Autonomous Okrug. – "MK"). Another important point is that Abramovich has a very serious reputation in the West, he invested there for a long time both as a philanthropist and as the owner of one of the successful football teams (British Chelsea. – "MK"). He is a person affiliated with the world elite, and the factor of international reputation in such situations also matters …
– If we turn to the end of the 90s – the beginning of the 2000s, then Abramovich played a very significant role in President Yeltsin's entourage and, I think, also participated in the fate of our current president. I had acquaintances at the time who said that Abramovich would continue to give Putin advice. But Putin, as you know, does not need advice, he is a self-sufficient figure … One way or another, they have a long history of relations in which Abramovich, as a smart person, always took a position from below in relation to the president and eventually became one of the few influential in The 90s of people who managed to maintain such relations with Putin that allow them to communicate with him, albeit occasionally, but directly, which is very important for a person who plays the role of an intermediary. If he was closed to the second echelon, who needs him as an intermediary?
In addition, Abramovich is a Jew, which is also important, and can be a negotiator, using mutual acquaintances not only in the business environment, but also in the political environment too. And to the President of Ukraine Zelensky, who is also a Jew, he is not completely alien, and is built into the Western elite. Abramovich is a flexible, adequate and, of course, cunning person – I even expressed the opinion that he staged the recent alleged poisoning in Kyiv himself: it appeared on the front pages of British newspapers, he began to look as if he had suffered from "hawks" surrounded by Vladimir Putin …
In general, he has created a reputation for himself as a person who needs both the West and Putin. And the way Erdogan communicated with him today demonstrates that Abramovich is a serious figure and his political talents are now useful.
Abramovich found himself in a difficult situation. Sanctions are being imposed against Russian oligarchs all over the world, they are a priori considered to be influencing the policy of the authorities or benefiting from this policy… It is no longer possible to fight back by saying that you are a private person and have not been in power for a long time, something must be done. Each oligarch chooses his own strategy in such a situation. Abramovich, apparently realizing that the old mechanisms for establishing relations with state bodies in different countries do not work, and not wanting to live under sanctions, found a way out: peacekeeping. I think he offered himself as an intermediary, they hardly called him and asked: "Come, participate …" He decided to try.
I do not think that now he has the opportunity to personally convey something to President Putin. Abramovich was a special oligarch because of his role in the late 90s and early 2000s. But time passes quickly… And Abramovich is now completely different, and his level of influence is different. Therefore, I would be very careful with conclusions that he has some kind of exclusive relationship with President Putin. Abramovich is involved in the negotiations, but I would not exaggerate his role.
The real mediator in these negotiations is Turkish President Erdogan. He has repeatedly spoken with the President of Russia, and his position in the current situation is complex. He did not join the sanctions against Russia, on the one hand, and on the other hand, there are Turkish drones in Ukraine. And he also has experience in reaching difficult and working agreements with Russia on Syria, on Libya, on Karabakh …
Another thing is that Abramovich appeared in this story at the very beginning of the conflict, when Erdogan was not there yet as an intermediary. At that time, another president, Alexander Grigoryevich Lukashenko, proposed himself for this role, but Ukraine did not consider him a mediator, and the West does not consider him a president at all.
If the positive trend that has emerged during the negotiations strengthens, Abramovich will there is a chance to remain a legal figure in the West. But, even if nothing happens, the very attempt to do something will matter in the eyes of world public opinion.